About MicNOVA
The D.C. Regional Chapter of BetterInvesting established the Model Investment Club of Northern Virginia (MicNOVA) in 2008 to provide both new and experienced investors with a forum to demonstrate how an active, successful investment club functions while adhering to the BetterInvesting methodology for stock investments, portfolio management and educational presentations.
We keep stock watcher reports and stock selection guides for our portfolio, treasurer reports, meeting agenda, and copies of presentations in public folders on Bivio.com.
Monthly Meetings
The D.C. Regional Chapter Model Investment Clubs conduct two monthly investment club meetings. The meetings are open to the public. You don't have to be a member of the Model Investment Club or BetterInvesting to attend.
The MicNOVA meetings are held online from 7pm to 9pm via the GoToMeeting app. Anyone can participate in the Investment Club meetings.
The Montgomery County Model Club (MCMC) meets online on the third Wednesday of each month from 7pm to 9pm.
Meetig links for both model clubs are on the D.C. Regional Chapter Model Club webpage.  
BetterInvesting
Since 1951, BetterInvesting has helped over 5 million people become better, more informed investors. BetterInvesting helps its members build wealth through educational webinars, web-based mutual fund and stock tools, in-person learning events, publications, an active online community and software. Learn more about BetterInvesting here.
Events for the D.C. Regional Chapter of BetterInvesting can be found on our chapter webpage. If you would like to receive emails about chapter events, please sign up on the chapter web page.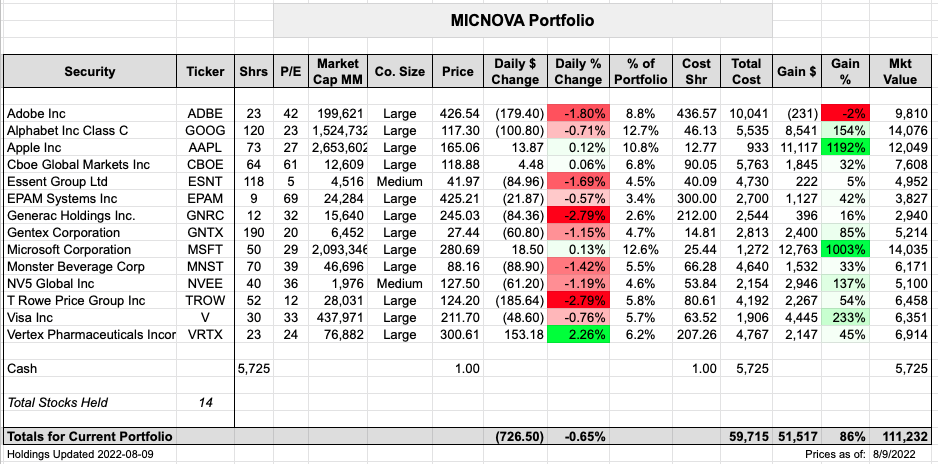 Here is our portfolio. For more information about MicNOVA please visit Bivio.com. You will find stock watcher reports, including stock election guides, for each of our stocks.
MicNOVA Portfolio Returns
Through October 31, 2023
MicNOVA 1-yr Return 

11.3%

11.3%

MicNOVA 3-yr Return (annualized)

24.2%

24.2%

MicNOVA 5-yr Return (annualized)

15.2%

15.2%
Manifest Investing Dashboard
You can also monitor our portfolio on Manifest Investing. The portfolio dashboard shows the projected annual return (PAR), quality, revenue growth, projected P/E, dividend yield, and other important metrics.  Manifest Investing is an excellent site for finding quality growth companies and for monitoring a portfolio.