About MicNOVA
The Model Investment Club of Northern Virginia (MicNOVA) is sponsored by the D.C. Chapter of BetterInvesting and the Fairfax County Public Library. MicNOVA provides new and experienced investors with the opportunity to learn about investing in stocks and managing a portfolio. Our meetings are free and open to the public. You don't have to be a member of BetterInvesting or the Model Investment Club to attend.
We keep stock watcher reports and stock selection guides for our portfolio, treasurer reports, meeting agenda, and copies of presentations in public folders on Bivio.com.
Monthly Meetings
If permitted by library COVID-19 restrictions, we plan to have an in person meeting each quarter at the Tysons-Pimmet Library. The other two meetings during the quarter will be held on line.
We start promptly at 7:00 pm. Here is the MicNova meeting link for the on line meetings.
August 9, 2022  – Hybrid (online and in person)

September 13, 2022 – Online
October 11, 2022 – Online
BetterInvesting
Since 1951, BetterInvesting has helped over 5 million people become better, more informed investors. BetterInvesting helps its members build wealth through educational webinars, web-based mutual fund and stock tools, in-person learning events, publications, an active online community and software. Learn more about BetterInvesting here.
Events for the D.C. Chapter of BetterInvesting can be found on our chapter webpage. If you would like to receive emails about chapter events, please sign up on the chapter web page.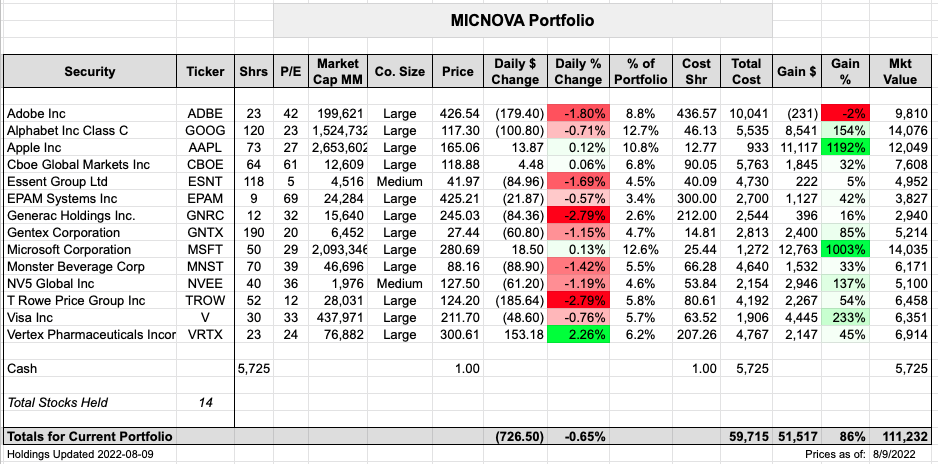 Here is our portfolio. For more information about MicNOVA please visit Bivio.com. You will find stock watcher reports, including stock election guides, for each of our stocks.
Portfolio Return
Through June 30, 2022
MicNOVA 1-yr Return 

-11.1%

-11.1%

MicNOVA 3-yr Return (annualized)

12.7%

12.7%

MicNOVA 5-yr Return (annualized)

10.4%

10.4%
Manifest Investing Dashboard
You can also monitor our portfolio on Manifest Investing. The portfolio dashboard shows the projected annual return (PAR), quality, revenue growth, projected P/E, dividend yield, and other important metrics.  Manifest Investing is an excellent site for finding quality growth companies and for monitoring a portfolio.